Tender Development: 6 Lessons We Learned This Financial Year (Part 1)
Learning from life's lessons is a course you never graduate from. Looking back at a packed financial year, what gems did Tender Success uncover along the way?
KEY POINTS
Creativity is a vital, yet under-used tendering resource
Winning tenders depends on the early and continuous involvement of all key stakeholders
Developing Relationships with prospects via a capture management plan before tenders are issued can reap dividends
Reviewing every project delivers valuable learnings
For Tender Success, 2012/2013 was action-packed: crammed with some welcome highs, one or two stressful lows and a swag of surprises. At the end of every project, we carefully review what lessons were learned so we can help our clients better their future tender responses. Frequently, these lessons touch on principles that are applicable to a much wider audience. So this year, we're sharing six of our favourites, confident that they will resonate with tenderers worldwide.
1. Think Outside of the Template
The Situation
A healthcare services company was responding to a Federal Government RFT. The offer was competitive, the numbers looked good and the evidence was present. There was just one problem: the response was mind-numbingly boring. Due more to the dull nature of the RFT itself rather than any fault of the tenderer, something was needed to bring it to life.
The Outcome
After creative brainstorming something bold emerged. The RFT involved the creation of an internship program, so we listed the benefits an intern would receive. Armed with this information, we drafted an imaginary letter from a fictitious intern and dated it three years into the future. In it, she describes the program, the activities she experienced and the benefits it delivered.
The 'letter' used a pen-like script font as if handwritten. We included polaroid-like snapshots to illustrate the key points mentioned. And we laid it all out in a full colour spread and placed it right after the Executive Summary.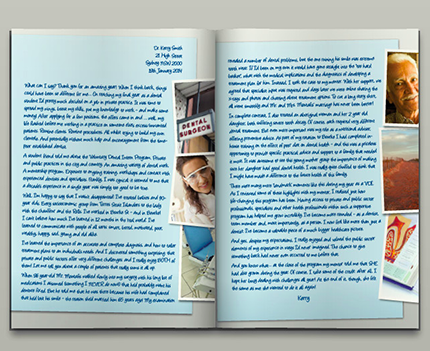 Suddenly, this dull, technical proposal had a human touch. The tenderer demonstrated that thorough understanding of the aims of the program, and showcased the unique value propositions they were offering - in a memorable way.
The Lesson Learned
The tender document didn't ask us to tell a story and it didn't demand any creative writing. Yet despite our entire response being strictly compliant, we deliberately broke free of the template both mentally and literally. And we delivered something that truly differentiated the offer.
Tender responses don't often lend themselves to creativity. Which is precisely why we need to use it wherever possible.
2. Get Top-Level Buy-in Early
The Situation
A multimillion dollar medical services tender. A large, multi-skilled team working on a complex set of documents. A truly competitive offer delivering genuine value for money. For many weeks, this project appeared to be a dream, with timelines met, graphics developed and content drafted.
With mere days to go before lodgment, the feet of the senior management team experienced a temperature drop. Management decided to pass the entire draft tender response to the CEO of the organisation's parent company located overseas. Project control was relinquished, suddenly and completely.
Naturally, the CEO came to the near-finished drafts completely cold. After a cursory reading, he noticed that the approach was different to what he was familiar with in his domestic market. So he demanded dramatic root-to-tip changes. The response would need to be practically rewritten from scratch.
The Outcome
Missing the looming deadline wasn't an option, so Plan B was unfurled. Rolling up collective sleeves, all involved hunkered down and prepared for something familiar to many tendering professionals: the all-nighter. Content was chopped and changed, graphics dramatically adjusted and numbers crunched, tweaked and triple-checked.
Eventually, a revamp emerged which garnered the CEO's blessing. Every effort had been made to retain the original draft's impact and polish, but it just wasn't the same. With only hours to spare, there was no time to develop innovative pricing options or suggest a non-compliant alternative bid. The high-end paper stock and professional printer we selected were abandoned in favour of an office colour laser. The offer was lodged within an hour of the deadline.
The Lesson Learned
Had our CEO friend been involved at every stage of development, things could have been very different. As the most important (yet undisclosed!) internal stakeholder, his input, direction and decision-making were key to ensuring the tender project remained on the critical path. Without this vital piece of the puzzle, hours of effort were wasted and the end result suffered.
Key decison-makers must be involved in a bid right from the start and, remain engaged! Always ask:
"Are ALL key stakeholders involved - even those located remotely?" and,
"What's my governance process for ensuring continuous engagement?"
3. People Rarely Buy from Complete Strangers
The Situation
A software company was taking a brave step into new territory. Their development services and lengthy experience seemed to be perfectly aligned with an RFP released by a large local authority. In fact, the Selection Criteria was such a close match, it seemed as if it had been 'written for them', even though neither company had ever worked together.
The Outcome
Evidently, the RFP had been written with someone else in mind. The contract was awarded to a firm that was already providing much smaller services to the authority. Their approach was tried and tested, their interaction with internal stakeholders proven, their staff known to the key decision-makers.
The Lesson Learned
Naturally, our client was disappointed, but not entirely surprised. After all, it is claimed that 80% of contracts are awarded to suppliers who are already known to the buyer. Plans were immediately put in place to improve the company's 'capture strategy' to focus on developing relationships with prospects before they issue RFTs.
The tender response itself wasn't a wasted exercise: the company developed a useful library of information for future bids, and learned a lot about the marketplace. But it could have been so much more.
'Cold-tendering' without a relationship in place is rarely successful. Having a proper capture strategy in place will help turn strangers into potential buyers.
None of these lessons are new; lessons rarely are. Few of them cost much to implement. But, as with so many aspects of the competitive pitching landscape, incremental improvements and adjustments can have an enormous impact on the end result. In Part 2 we will consider three more valuable lessons this financial year has taught us.

Matt Milgrom is a senior consultant for Tender Success. He has helped many companies win tenders, proposals and bids, learning plenty of lessons along the way. Contact Matt to ensure your next response is a success.