Latest Articles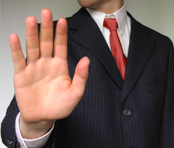 Strategy:

Getting to No
It may seem counter-intuitive, but sometimes choosing No-Bid can be best for your business. But how do you get to 'No' when your heart says 'Yes'? (More...)
Tender Development:

Tentative about Tendering?
Why not take a different approach? If you consider tendering an opportunity to 'raise the bar' or 'lift your game' the benefits may improve your business performance, let alone your win rate. (More...)
Design & Layout: 4 Steps Towards Print Perfection
Despite the rise of electronic tendering, high value bids are still mostly paper affairs. How can you ensure your submission looks a million dollars? (More...)
There's No Secret to Winning Your Next Tender:

Just Science
In fact, most winning pitches, tenders and proposals involve a similar formula:

Left-Brain Thinking x Right Brain Creativity x Planning = Winning Bid
And winning tender documents typically contain these common elements:


A Proven Understanding of Your Prospect's Needs

Persuasive Content
Your Offer Showcased Professionally

"25 years experience with
$20bn+ of contracts won:
we're a secret you might
want to keep to yourself"
It sounds simple, but winning demands time and expertise. And that's a real challenge when you're battling with 'business as usual', are responding to many different opportunities, or don't know how to prepare a set of tender documents.


So, How Can Tender Success Help You
Win Your Next Tender?





Gain the Kind of Unfair Advantage that Wins '
More Tenders More Often

'.