Tender Success is a boutique consultancy providing logical, creative thinking. Meet the people behind the brains.
Our Principals
Robert Machin, Consultant

Robert I Machin
, MA (Mgt) FAICD FAIM ICF (CEG) APMP

Robert Machin has more than 30 years' management experience and has held positions including Chief Executive, Managing Director and Board Director in the private and public sectors. Robert has been responsible for business units with large annual budgets and as such has had much exposure to tenders as part of his daily management and operational responsibilities.
However, Robert's first serious encounter with the complex and challenging field of writing and responding to tenders, proposals and bids goes back to the late 1980s when he was directly involved in the "Competitive Tendering" initiative of the NSW state government. "Competitive tendering" is the process of subjecting non-core business activities to the tender process with the notable difference that, in-house teams (current employees), also submitted a tender to provide the contracted service, following the British government's experience.
Robert's skills and experience in dealing with and understanding the specific requirements of government were sought by a number of organisations who wished to tender for government business. Robert's success in this area has led to his increasing interest in helping all sorts of organisations, both public and private, in their endeavours to acquire business through responding to proposals and tenders.
While many companies and organisations consider tendering an arduous and often thankless task Robert believes that if done properly an organisation can not only be tender-ready but can improve its chances of success while ensuring all of its essential systems and processes are maintained and up-to-date.
Read an interview with Robert here.
Matt Milgrom, Consultant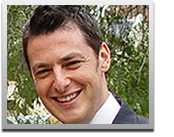 Matt Milgrom has had a varied and interesting 15 year career. Starting out in IT support for a mid-size motherboard manufacturer, Matt quickly progressed and held a senior role managing Clinical IT systems for two international pharmaceutical companies. Promoted to eBusiness Manager, he was responsible for managing the development of a series of disease-state websites to Australia. Moving wholly into a creative role, Matt then strengthened his considerable visual design skills and shifted into the dual role of Art Director and Copywriter for two boutique design agencies.
Matt's first encounter with the world of bids, tenders and proposals came in the mid-2000s when he was contracted to develop a suite of diagrams and figures for a $500m submission. Matt discovered that his design, writing and project management skills were exactly matched to the world of submissions, and his background in the corporate world of budgets and SMEs invaluable. In short order, his tender duties expanded to include document layout, editing & writing and interactive electronic document design.
Since then, Matt has enjoyed helping Australian corporations to produce great-looking, legible submissions that pitch in a powerful way.
Tender submissions have a reputation for being dreary documents, but Matt believes that winning submissions ought to look professional and be as inviting and accessible as a well-written trade journal. A strong believer in the emotional selling power of figures & graphics, Matt loves helping Australian companies produce great-looking submissions that pitch in a powerful way.
Read an interview with Matt here.
Our Freelancers
Our Principals make up the core of Tender Success, but that's only part of the picture. As a boutique consultancy, we're delightfully scalable thanks to our pool of freelance experts. These are engaged project-by-project as required, and include:
A skilled, internationally-experienced advertising writer
An accomplished Sydney-based photographer with an impressive portfolio on Getty Images
2 x talented, skilled graphic artists
2 x skilled web development gurus
Several highly organised & experienced Project Managers
Our Partners
We've formed strategic alliances with key experts in various fields, including:
A creative design software 'evangelist'
The chairman of a tender training organisation
A cutting edge LMS and training authorware software supplier

A dynamic, solutions-driven Sydney-based print brokerage


Contact Tender Success so our specialists can help you make your next submission a success.